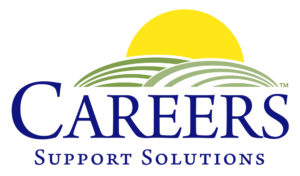 400 Columbus Avenue, Suite 123S
Valhalla, NY 10595
(914) 741-8500
Fax: (914) 741-6865
102 Gleneida Avenue

Carmel, NY 10512
(845) 225-8007
Fax: (845) 225-6820
[email protected]
www.CAREERSsupportsolutions.org
https://www.facebook.com/CAREERSSupportSolutions
CAREERS Support Solutions, Inc. (CAREERS) values the privacy of our clients, donors and web site visitors and upholds the confidentiality of your personal information. CAREERS does not sell, share, rent, or trade information about clients, donors or other contacts. The personal information you provide is used to process your donation or respond to information requests you initiate. All personal information provided is stored in databases located on servers, which are behind firewalls.
Your financial information, secured while making a donation on our website through PayPal, is protected by PayPal, with industry-leading security and fraud prevention systems, and is not shared with CAREERS.
If requested, donor anonymity will be respected. Upon request, we allow you full access to your information and we will maintain its accuracy according to your instructions. You can contact us at the address below to notify us of your preferences.
CAREERS may automatically receive and record information on our server logs from your browser, which may include your IP address, session time, click path analysis, and the pages you request. CAREERS will only use this type of data in an aggregate form which does not identify you personally.
We strive to keep donors informed about our programs, and the important role their support plays in keeping CAREERS vital. We send e-mails and USPS mailings to keep donors playing an active role in our success. If you are not interested in receiving our mailings, you may opt out by clicking "unsubscribe" at the bottom of our e-mails, or by sending an e-mail to the address below.
For additional information on CAREERS Support Solutions Privacy Policy, please contact:
Tina Cornish-Lauria, Executive Director
CAREERS Support Solutions, Inc.
400 Columbus Avenue, Suite 123S, Valhalla, NY 10595 (914) 741-8500 x111
102 Gleneida Avenue, Carmel, NY 10512 (845) 225-8007 x102