Shannon Crimaudo-Hayes, who has autism, just celebrated her 12th year receiving job-related services from CAREERS. After graduating from our Workforce Readiness, Placement and Training Program, we helped get her hired by Barnes & Noble in White Plains in August 2010 as a book shelver – the perfect job for a detail-oriented person like Shannon.
She enjoys roaming the stacks to return books to their proper place and keeping everything orderly. In fact, Shannon is so dedicated and good at her work that Barnes & Noble honored her with Employee of the Month awards several times. In 2011, we also recognized her enduring success with a Personal Achievement Award at our annual Anniversary Celebration.
Throughout her 11 years at her job, Shannon has weathered big changes, including a large turnover in management, and most recently a furlough due to the pandemic. The furlough began in March 2020 and Shannon had no idea when, or if, she'd ever be able to return to work. Shannon received ongoing support from her CAREERS Employment Specialist and checked in with Barnes & Noble every week to make sure they knew that she was willing and able to return to her job.
Her tenacity paid off. Shannon resumed work at Barnes & Noble in September albeit with considerable changes and challenges. The store was restructured for social distancing and many new safety protocols were in place. As a result, Shannon had to adjust to an unfamiliar store layout and learn new tasks in order to re-shelve items safely. Changes in routines are challenging for Shannon, and her employers were concerned about her ability to grasp the new regimens. But according to her CAREERS Employment Specialist she was determined to learn everything necessary in order to get back to a job she loves.
She pushed herself to overcome considerable obstacles and achieve new goals. Her Barnes & Noble and CAREERS families are extremely proud of her, and we will continue to provide on-the-job training to her to assure that she maintains employment for many years to come.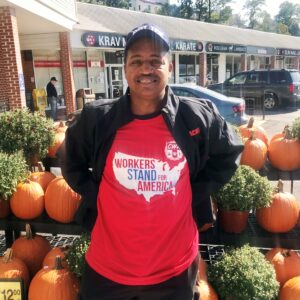 Ralph Simpson was referred to CAREERS in 2016 as a job save, which is when we are asked to help someone keep his or her job, or find a new one, before they are terminated.
Ralph had been working at Acme for many years, but started having problems staying on task and dealing with customers. After trying a variety of interventions, his employer decided it would be best to let him go – something they were sorry to have to do. When this happened, Ralph's father reached out to CAREERS and asked if we would contact his former manager who was now working at a store location closer to Ralph's home and see if he could help Ralph get a job at that store.
Ralph and his former manager always got along well and had a very good rapport. We accepted Ralph as a new referral and contacted the manager. Luckily, we were able to get Ralph re-located to the store where with his former manager currently worked. He needed quite a bit of on-the-job training but with our support, Ralph was back to earning an income and feeling productive fairly quickly.
Sadly, Ralph was hit with more significant blows. First, his parents both passed away in a tragic car accident and shortly thereafter, the store where Ralph worked closed, and he had to be transferred to yet another location. In order to help Ralph deal with these major life changes, we once again provided intensive job coaching and ongoing support.
With time and much-needed support from his CAREERS Employment Specialist, Ralph acclimated to a new environment, new co-workers and managers, and learned to cope with his personal loss. He is very happy working in the new location and we will continue to provide the help that Ralph needs to keep his job and be successful – both professionally and personally.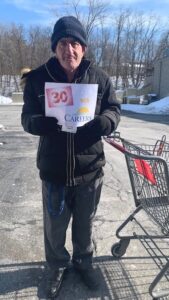 John Lefurgy has an intellectual/developmental disability. But that hasn't stopped him from working at Acme for an incredible 27 years — and being a CAREERS client for 30! He empties recycling and garbage bins, returns shopping carts to the store's main entrance, and much more.
John loves his job, and as an essential employee has been working throughout the pandemic. His work ethic cannot be disputed, and as we've seen over the past few months, neither can his inner strength and resilience.
John recently lost a brother to cancer, and he was emotionally devastated. But with enhanced, hands-on and continual support from his CAREERS Employment Specialist, Tiffany Howell, John has been successfully processing the loss, coping with his sadness, taking care of himself and working. Tiffany encouraged him stay strong and remember the happy times that he had with the brother he adored. Importantly, she reminds him of his amazing ability to overcome difficult situations and reinforced that she's always there to talk, listen and help.
The support Tiffany provided John during a particularly trying time in his life helped him to muster his strength and move forward. He took a few days off work to attend services for his brother and be with his family, but then went right back to Acme to do the job he loves. It was empowering for John to understand that even though he was in mourning, he could go about his life.
John has been with CAREERS for 29 years and we are very proud of all his personal and work-related accomplishments. We will continue to provide on-the-job training and ongoing support services and for as long as John needs, and wants, our he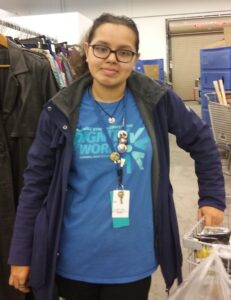 Cristina Lopez, who has a learning disability, started her journey with CAREERS as a high school student by participating in our popular High School Transition Program. We placed her in our Project Search internship program at Montefiore Hospital in New Rochelle where she rotated through different departments throughout the year to become comfortable with having a job, including basic office, kitchen and maintenance tasks.
After successfully completing this program, Cristina was more aware of her strengths and interests and in a position to find a long-term job. Once she graduated high school, she was in the best possible position to achieve her goals and she enrolled in CAREERS adult Workforce Readiness, Placement and Training Program.
Cristina was definitely capable and motivated according to her CAREERS Employment Specialist, Allegra Palevich, but she was shy and self-conscious – things that could hold her back. She worked closely with Allegra to gain more confidence, be more assertive and advocate for herself. Together, they wrote Cristina's resume, completed online job applications, refined her interview skills, and started the job search process.
Cristina's hard work with Allegra paid off. She was hired at Goodwill Industries in New Rochelle in 2016 and became an integral part of their team for four years. She continued to receive on-the-job training from Allegra and she enjoyed her job, was reliable and effectually covered shifts in all of the store's departments. But then COVID-19 happened, and the store shut down permanently.
Without her work and friendly, generous Goodwill community, Cristina became depressed – as did so many of our clients who found themselves suddenly unemployed. But Allegra figuratively held Cristina's hand throughout her emotional struggle. She stayed in frequent contact with her, provided coping tools in formats Cristina could easily use, and encouraged her stay positive because "things will get better."
Allegra's compassionate and professional support helped Cristina push through a scary time and emerge stronger. Allegra was able to get Cristina a new job at Stop & Shop in New Rochelle as an online shopper. This new chance to be productive, financially independent and out in the community has helped Cristina recognize her own resilience. We will continue to support Christina for many years to come to assure that she stays employed for the long-term.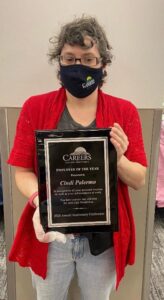 We do our best to identify annual stand-outs, and in an unprecedented year, doing this was more difficult than in the past. During the pandemic, all of our clients have had to push beyond their comfort zones to stay employed. This year, we announced Cindi Palermo as Employee of the Year at our recent virtual Annual Anniversary Celebration on November 10th.
Cindi was recognized for her excellent work ethic and job performance at Target in White Plains where she has worked for the past 17 years. Cindi has done an exceptional job at adjusting to new job tasks as a result of the pandemic. According to her managers and co-workers, Cindi is an outstanding employee who works hard, has a positive attitude, takes store policies seriously and greets every customer with her warm smile. Cindi has always worked in the fitting room, and rumor has it that she is a strict enforcer of the rules that limit the number of garments allowed per customer. But during the pandemic, the fitting rooms were closed, and she was unable to perform her usual job. Despite this, Cindi remained agreeable and willing to do anything and everything her employer asked of her. She even rearranged her schedule so that she could help out in different departments as needed. Cindi learned to wear many hats during these stressful times, and we are very proud of her for all that she has achieved.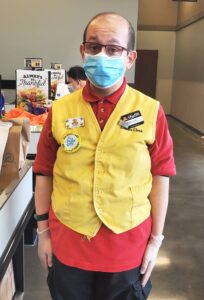 CAREERS client Michael Werner has been working at ShopRite in Peekskill for 12 years. At the start of the pandemic, ShopRite, like most grocery stores, cut back on staff, and Michael was laid off from his position as a bagger. Shortly thereafter, ShopRite eliminated baggers all together as a safety precaution, so Michael's Employment Specialist began to focus on teaching him other skills that would help him get back to work. This included learning how to process returned grocery items by putting improperly shelved or randomly placed items back where they belong. These new skills made Michael more employable and, while Michael is happy to return to bagging (he likes helping customers with their groceries and the social interaction), he can now handle other tasks if/when needed.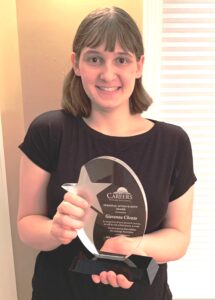 Giavanna Cilento, who is autistic and struggles with ADHD as well as a mood disorder, came to CAREERS in 2015 as a high school student at Carmel High School. Through our Workforce Readiness, Placement and Training Program, we placed her in a paid internship at George's Place, a popular local restaurant.
She liked her boss very much and enjoyed talking with the local patrons, many of whom she knew. But after a while she decided that working in the restaurant industry didn't exactly match her skills or interests — she wanted to with children.
To help Giavanna reach her goals, her CAREERS Employment Specialist, Kim Flynn, conducted the proper assessments to determine if she possessed the skills, personality and responsibility level to work successfully in a childcare setting.
In 2019, CAREERS secured a job for her as a teaching assistant at Over the Rainbow Learning Center, a Brewster day care and longtime employer of CAREERS clients. Before beginning her exciting new job, Giavanna was required to complete 10 hours of child safety training through an online course. She met with Kim regularly to ensure successful completion of the training, which must be renewed each year.
Giavanna adjusted extremely well to her new job and is thriving there, with continued on-the-job training and support from her Employment Specialist. She received a Personal Achievement Award at CAREERS Annual Anniversary Celebration in November and she was recently promoted to recess monitor after her supervisors noticed how well she keeps the children engaged with creative, fun and stimulating new games and activities. The children love her and ask where she is on her days off. Giavanna is thrilled to be appreciated and is motivated to succeed in a job that suits her perfectly.
Cynthia Anderson has been with CAREERS for over 14 years and currently works in the deli at Stop and Shop, where she is celebrating her fourth anniversary. At our recent Anniversary Celebration, we were happy to provide Cynthia with the Most Improved Award for being more diligent about getting to work on time — a commute for which she travels over an hour each way 4 days a week. For a variety of reasons, arriving to work on time has been a challenge, but Cynthia has shown terrific growth in managing her situation. Also, Cynthia strictly follows all rules and procedures at her job and has been working throughout the entire pandemic. She does whatever is asked of her without issue, and she is a great team player.
Kevin Rodriguez, (pictured second from right) is a student at New Rochelle High who participates in our Education and Employment Initiative. Pleasant and motivated, Kevin wants to work as an electrician's assistant. He had some experience with a local company and had taken a relevant BOCES course, but his work ethic was spotty at best, and he lacked some of the interpersonal and professional skills needed to succeed in the workplace.
CAREERS Employment Specialist, Damon Ragin (pictured far left), job coached Kevin during his internship at Montefiore Medical Center in learning how to manage his time, prioritize and multitask, as well as how to effectively communicate with employers and co-workers.
With Damon's advocacy, Kevin was selected to participate in an intensive training course which provides hands-on experience as part of the City of New Rochelle's Envirolutions program, which encourages residents to work on city construction projects. Completing the 6-week course will prepare Kevin to take the test to be an electrician's assistant, with the opportunity to work for the City of New Rochelle.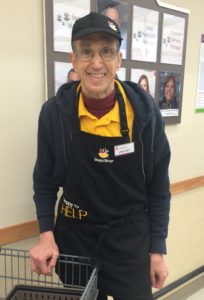 After 18 years at D'Agostino's Market in Rye Brook, Vinny Miggliacio came to work one day to discover the store was slated to close. A steady, reliable and enthusiastic worker, he wasn't sure what would happen next — but he knew where to turn for help.Vinny has been a CAREERS client for close to 20 years, and his Employment Specialist stepped in immediately to assist him with the final days of his long-time position. Knowing Vinny's strengths and interests, our staff also helped him find, and make the transition to, a similar job at Stop and Shop in Port Chester.
With the new job came new challenges, but with Vinny's experience and the guidance of his Employment Specialist, he was able to master his new routine, as well as adjust to new financial considerations and changes in transportation and scheduling.
Vinny's new co-workers and management are pleased to have his experience and work ethic, and Vinny is thrilled to be back as part of a team!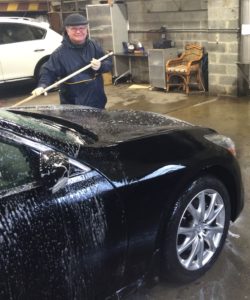 Peter Marshall had tried a number of different jobs with limited success. His diagnosis makes social interactions difficult, making the process of finding a job and discussing his abilities with a potential employer hard for him to do on his own.
With the assistance of his CAREERS' Employment Specialist, Peter began to learn the soft skills that would help him remain employed. His Job Coach found him a part time position at S & H uniforms, where he works autonomously cutting out uniform patterns.
Although he enjoyed the job, he wanted to be more financially secure, so our staff visited an auto dealership next door to S & H Uniforms. We worked out a position with the dealership and helped Peter to secure this second part-time job as an auto detailer. The proximity of the two jobs makes it easy for Peter to be successfully employed at both locations, and he is appreciated at both job sites as a hard worker! With the advocacy of his CAREERS Employment Specialist, Peter's life has changed dramatically – he is doing a great job at both locations, is enjoying his work and his newfound financial security.
Katherine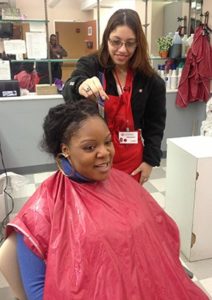 Nazario (pictured standing) was a participant in our Project Search program in conjunction with New Rochelle High School. When she entered the program, she struggled with issues from self-esteem to budgeting. With the help of our Employment Specialist, Katherine learned critical thinking and time management skills, as well as the job readiness skills needed to find a position suited to her interests. She tried a variety of internships, including the salon at United Hebrew Geriatric Center.
We also referred Katherine to speech therapy services to assist her with stuttering, and helped her to access services that she will need in the future. She gained the self-confidence to self-advocate and is no longer reliant on her mother as her legal guardian. With CAREERS assistance, Katherine secured a part-time job as a Home Health Aide, and is enjoying her newfound self-reliance.