CAREERS High School Transition Program provides students with learning, intellectual, developmental, psychiatric and/or physical disabilities throughout Westchester, Putnam and Dutchess Counties with the job and life skills they need to transition successfully from the classroom to employment. Our comprehensive services include intake and assessment, resume and cover letter preparation, development of pre-employment skills, internship development and placement, on-the-job training, job coaching and ongoing support services.
We also teach Workforce Readiness classes within school settings, as well as in our two offices. When each student completes the program, they may be placed in paid internships, or paying jobs, compatible with their skills and interests. After graduation, they can join our adult program where we can continue to provide much-needed services such as on-the job training and long-term ongoing support.
Research shows that participation in vocational training and/or job-related activities in high school for people with autism and other disabilities can lead to better post-school outcomes and the likelihood that they will remain gainfully and successfully employed.
On Course for College provides assistance to students 18 or older who have a documented disability and meet the admission requirements of a college for a degree or certificate program. We help students with admission, health and financial aid forms, course selection and class registration. Our staff ensures participants have access to all campus activities and the support they require to maximize their experiences, including tutoring, student advocacy, campus tours and orientations, and other resources. Our support and services are tailored to the unique and changing needs of each student, including problem solving, coping skills and stress management.
All Transition Services are provided FREE of charge to students and their families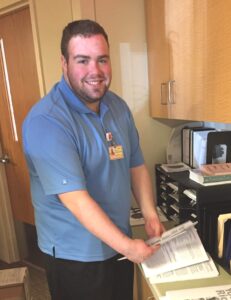 Ryan Moynihan (pictured) is a High School Transition Program participant with developmental disabilities who started his school year as an intern in the Marketing Department at New York Presbyterian Hudson Valley Hospital. He later volunteered in Medical Affairs and continued exploring his skills and interests in other areas of the hospital. With continued skills training and support from his CAREERS Employment Specialist, Ryan was offered a paid job from the hospital when he graduated. He continues to be successfully employed there and receives ongoing support services from CAREERS to assure that he remains successful.
For additional information please contact:
For residents of Northern Westchester, Putnam and lower Dutchess:
Sarah Baker, Transition & Work-Based Learning Coordinator
(845) 225-8007 x105
For residents of Mid to Lower Westchester:
Jennifer Retacco, Transition Coordinator
(914) 741-8500 x108