CAREERS Support Solutions opened a Thrift Shop at 208 Route 52 in Carmel, which is open from 12 noon to 4 p.m. Tuesday through Saturday. The shop is run by volunteers and helps our clients, like the guys from our Ambition In Motion (AIM) program pictured, get some hands-on jobs skills training. The shop will eventually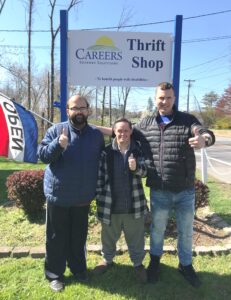 provide paid internships to CAREERS clients and proceeds will help fund CAREERS programs of job training and placement for individuals with learning, intellectual, developmental, psychiatric and/or physical disabilities.
Tina Cornish-Lauria, Executive Director of CAREERS, said the new shop is within walking distance from ShopRite. "This is a great opportunity for CAREERS clients to learn retail skills such as stocking shelves, customer service and using a cash register. The shop will also allow us to provide work try-outs for students, to see where their skills and interests lie," she explained. "We look forward to showing the public how people with disabilities perform necessary roles in the workplace and become valued team members."
The shop accepts donations of gently used women's and men's clothing, shoes, jewelry, handbags, household goods, linens, pet necessities, and other items, keeping them out of landfills while providing unique and affordable treasures to all members of the community. We cannot accept children's clothing, bathing suits, appliances, computers, books, video games, CDs, DVDs, toys, stuffed animals, musical instruments and sporting goods. All purchases and donations are tax deductible as allowed by law.
Archives: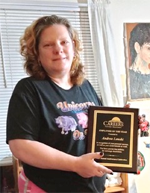 Andrea Lenski (pictured left), was named CAREERS Employee of the Year at our virtual Anniversary event on November 17th for consistently demonstrating excellence in the workplace. She was one of 173 clients highlighted for their efforts on the job at our annual event,
This year's Annual Anniversary Celebration was once again held virtually to keep our clients and supporters safe. With an on-line program full of warm acceptances, inspiring videos, live chat and fun slide show, our program participants, their families and employers, as well as our supporters and staff, cheered each other's success.
While this year's event looked different than our usual in-person events, the joy we shared from recognizing our honorees and supporters remained unchanged and we delighted in seeing our clients so proud of their accomplishments.
For the 17th consecutive year, PepsiCo EnAble was the Premier Sponsor, with CVS Health as Supreme Sponsor. KTS Pooled Trust joined as a new Major Sponsor. Curry Automotive and Enea, Scanlan & Sirignano were Supporting Sponsors.
Contributing Sponsors include: Croonquist Group, Hart Vida & Partners, James Quinn Painting, Karen Brown, Kitson Law Firm, LEXCO Wealth Management, New York-Presbyterian Hudson Valley Hospital, ShopRite Supermarkets, and Unitex Textile Rental Services. Awards of Appreciation were given to CAREERS' corporate and foundation supporters, including the Field Hall Foundation and Gina Manzino.
"Our Annual Anniversary Celebration is our favorite night of the year as we honor nearly 200 of our clients for their work successes," CAREERS Executive Director Tina Cornish-Lauria said.
"CAREERS remained open during the entire pandemic as we helped 73 essential employees stay safely on the job while keeping all our staff employed. We assisted hundreds of others through the changed landscape of employment to prepare them for new opportunities," she added.
Kevin Ross (pictured left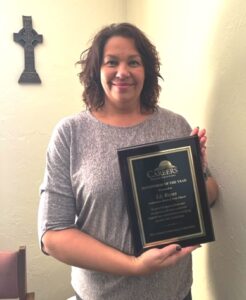 ), CEO and owner of S & H Uniform in White Plains, received Employer of the Year for his steadfast support and mentorship of people with disabilities. Kevin also serves as President of the CAREERS' Board of Directors.
For her compassion, patience and encouragement to a CAREERS client and co-worker, Liz Reyes (pictured right) of Immaculate Heart of Mary Church in Scarsdale was named Supervisor of the Year.
To see our event video, other award winners, celebration Journal and sponsors, Click here: https://careers.onlinegalas.org
Lyle Davidson Earns Westchester NDEAM Longevity Award "America's Recovery is Powered by Inclusion," was the theme for this year's event, which annually highlights the contributions people with disabilities bring to the workplace. Lyle Davidson has been a CAREERS client for 26 years, with the past 17 as a valued employee of S & H Uniforms in White Plains. Maintenance, warehousing, picking orders and stocking are a few of his many responsibilities. His incredible memory helps him locate items quickly and keep the warehouse running efficiently. "Lyle's constantly reminding me about things we need to order for the warehouse to keep everything running smoothly" said S & H owner and CEO Kevin Ross.
CAREERS Receives NYS Empire AwardTina Cornish-Lauria, Executive Director of CAREERS, accepted the New York State Empire Award, for organizations who have made a significant contribution for the betterment of their community. State Senator Pete Harckham honored CAREERS because "their programs meet an individual's unique needs and places them in jobs based on their abilities and interests. They provide on-the-job training and long-term support for as long as each individual requires."
Help in Getting and Keeping a Job If you or someone you know has a documented disability (intellectual, developmental, psychiatric and/or physical) and want to find a job, CAREERS can Help!
CAREERS Support Solutions: New Name, Same Vital Mission The new name emphasizes the the support and assistance we provide to our clients as well as the unique solutions we create for employers.

A record breaking crowd celebrated our hardworking clients at our 29th Anniversary Celebration on October 20th at the Crowne Plaza in White Plains. The event congratulated and honored over 200 of our clients celebrating work anniversaries from 1 to 35 years, including our 2016 Employee of the Year Sheree Ferguson.
New Agency Staff Page Want to put a face with the voice you hear on the phone when you call CAREERS? Check out our new Agency Staff page under the "Contact Us" tab to see the entire CAREERS team.
Our clients love what they do…and it shows. We asked them to tell you why your support of CAREERS is so important to them! Watch the video here.
CAREERS Teams up with United Way of Westchester and Putnam and PepsiCo to Find Jobs for Women.
Getting Ready for Disability Mentoring Day, October 21, 2015
Ambition In Motion Program Arrives at Iona College
Expect. Empower. Employ. Disability Mentoring Day 2014 in Westchester and Putnam
CAREERS' Ambition In Motion – AIM program grows to meet the needs of the community.
CAREERS Expands Ambition in Motion – AIM Program
CAREERS Finds Jobs for New Rochelle Students
CAREERS Client Vinny M. Welcomes Ann Tucker to Advisory Board
CAREERS Collaboraton with Carmel High School Results in Award