"America's Recovery is Powered by Inclusion," was the theme for this year's event, which annually highlights the contributions people with disabilities bring to the workplace.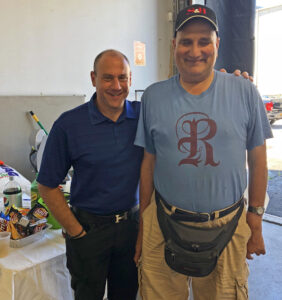 Lyle Davidson has been a CAREERS client for 26 years, with the past 17 as a valued employee of S & H Uniforms in White Plains. Maintenance, warehousing, picking orders and stocking are a few of his many responsibilities.
His incredible memory helps him locate items quickly and keep the warehouse running efficiently. "Lyle's constantly reminding me about things we need to order for the warehouse to keep everything running smoothly" said S & H owner and CEO Kevin Ross (pictured right with Lyle).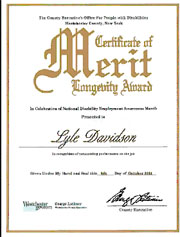 As an essential worker, Lyle worked through the entire pandemic without hesitation. He learned all COVID protocols from his supervisor and job coach and followed them to the letter.
For Lyle, his work is not just a job and it shows. He loves the business, customers and his co-workers. His dedication, positive outlook and enthusiastic smile are his greatest asset and the key to his longevity.
Watch the Westchester County virtual NDEAM Celebration
Archives:
CAREERS Receives NYS Empire AwardTina Cornish-Lauria, Executive Director of CAREERS, accepted the New York State Empire Award, for organizations who have made a significant contribution for the betterment of their community. State Senator Pete Harckham honored CAREERS because "their programs meet an individual's unique needs and places them in jobs based on their abilities and interests. They provide on-the-job training and long-term support for as long as each individual requires."
Help in Getting and Keeping a Job If you or someone you know has a documented disability (intellectual, developmental, psychiatric and/or physical) and want to find a job, CAREERS can Help!
CAREERS Support Solutions: New Name, Same Vital Mission The new name emphasizes the the support and assistance we provide to our clients as well as the unique solutions we create for employers.

A record breaking crowd celebrated our hardworking clients at our 29th Anniversary Celebration on October 20th at the Crowne Plaza in White Plains. The event congratulated and honored over 200 of our clients celebrating work anniversaries from 1 to 35 years, including our 2016 Employee of the Year Sheree Ferguson.
New Agency Staff Page Want to put a face with the voice you hear on the phone when you call CAREERS? Check out our new Agency Staff page under the "Contact Us" tab to see the entire CAREERS team.
Our clients love what they do…and it shows. We asked them to tell you why your support of CAREERS is so important to them! Watch the video here.
CAREERS Teams up with United Way of Westchester and Putnam and PepsiCo to Find Jobs for Women.
Getting Ready for Disability Mentoring Day, October 21, 2015
Ambition In Motion Program Arrives at Iona College
Expect. Empower. Employ. Disability Mentoring Day 2014 in Westchester and Putnam
CAREERS' Ambition In Motion – AIM program grows to meet the needs of the community.
CAREERS Expands Ambition in Motion – AIM Program
CAREERS Finds Jobs for New Rochelle Students
CAREERS Client Vinny M. Welcomes Ann Tucker to Advisory Board
CAREERS Collaboraton with Carmel High School Results in Award