CAREERS Celebrates 35th Anniversary!
Noah Feld (pictured with Employment Specialist Allegra Palevich) was named Employee of the Year at CAREERS 35th Anniversary Celebration. More than 100 clients were honored for their hard work and employers, sponsors and donors were also recognized.
"It is so gratifying to celebrate 35 years of serving individuals with disabilities," CAREERS Executive Director Tina Cornish-Lauria said. "CAREERS successfully weathered the pandemic and I am pleased to report that job placements are up 104% over 2020 and 40% over last year," she added.
PepsiCo EnAble was the Premier Sponsor of the event for the 18th consecutive year and KTS Pooled Trust returned as Supreme Sponsor. Curry Automotive and Enea, Scanlan & Sirignano returned as Supporting Sponsors.
Contributing Sponsors include: Cuddy Law Firm, LEXCO Wealth Management, Croonquist Group, Hart Vida & Partners, James Quinn Painting, Karen Brown, Kitson Law Firm, New York-Presbyterian Hudson Valley Hospital, ShopRite Supermarkets, and Unitex Textile Rental Services. Besides Noah Feld, who was named Employee of the Year for his dedication and creativity in the bakery department at ShopRite in New Rochelle, several awards were given to supporters and clients. Uncle Giuseppe's Marketplace in Yorktown Heights received the Employer of the Year award for creating a welcoming workplace for people with disabilities. Named Supervisor of the Year was Claudia Pavone, manager of ShopRite in Bedford, who treats individuals with disabilities with compassion, empathy and patience.
New York State Senator Pete Harckham received an Award of Appreciation for his work on behalf of people with disabilities. Senator Harckham advocates for people with disabilities and works to ensure inclusivity in the workplace, in schools, and elsewhere. The Afya Foundation, a not-for-profit that repurposes medical supplies for those in need, received the Outstanding Program Support Award for its internship program that teaches vocational skills. The Outstanding Community Support Award went to the not-for-profit Second Chance Foods which provides nourishing food to those in need in Putnam County.
Adrienne Forbes, widow of Board Member Howard Forbes, and their son Warren accepted the Forever In Our Hearts Award in Howard's memory. Jane Dwyer, head volunteer at the new CAREERS Thrift Shop, accepted the Outstanding Volunteer Award on behalf of the 14-member group of volunteers. Other honorees include Angela Sforza, Shining Star Award; Harpal Arora, Rock Star Award; Lyle Davidson, Retirement Honoree; Stephen Barker, Ben Rodell and Debra Ann Schnepf, Personal Achievement Awards.
Westchester County's National Disability Employment Awareness Month Awards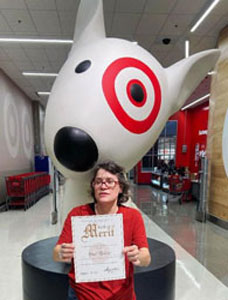 We are so proud of longtime client Cindi Palermo, who received the Longevity Award to mark Westchester County's National Disability Employment Awareness Month (NDEAM). Thanks to CAREERS unique program of skills training and on-the-job support, Cindi has been successfully employed at Target in White Plains for the past 19 years.
Tina Cornish-Lauria, Executive Director of CAREERS, said that the awards are a great way to showcase our hard-working clients and recognize employers who hire people with disabilities. "The NDEAM Awards Ceremony is a meaningful way to honor people who bring their best to work every day," she said. "We are so proud of Cindi and our other CAREERS clients who are a shining example of what individuals with disabilities can accomplish."
Local businesses honored included the following CAREERS employers: The Afya Foundation in Yonkers, CVS in Scarsdale, Marshalls in Mohegan Lake, ShopRite in Bedford Hills and Thornwood, Stop & Shop in New Rochelle and Target in White Plains.
See the virtual NDEAM ceremony video
Archives:
CAREERS Support Solutions Opens Trift Shop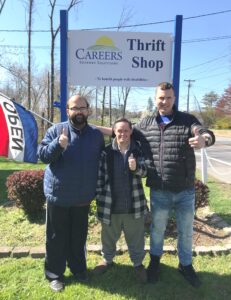 CAREERS Support Solutions opened a Thrift Shop at 208 Route 52 in Carmel, which is open from 12 noon to 4 p.m. Tuesday through Saturday. The shop is run by volunteers and helps our clients, like the guys from our Ambition In Motion (AIM) program pictured, get some hands-on jobs skills training. The shop will eventually provide paid internships to CAREERS clients and proceeds will help fund CAREERS programs of job training and placement for individuals with learning, intellectual, developmental, psychiatric and/or physical disabilities.
Careers 34th Anniversary Celebration, 2021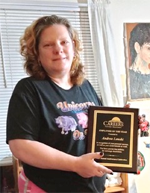 Andrea Lenski (pictured left), was named 2021 CAREERS Employee of the Year at our virtual Anniversary event on November 17th for consistently demonstrating excellence in the workplace. She was one of 173 clients highlighted for their efforts on the job at our annual event,
This year's Annual Anniversary Celebration was once again held virtually to keep our clients and supporters safe. With an on-line program full of warm acceptances, inspiring videos, live chat and fun slide show, our program participants, their families and employers, as well as our supporters and staff, cheered each other's success.
Lyle Davidson Earns Westchester NDEAM Longevity Award "America's Recovery is Powered by Inclusion," was the theme for this year's event, which annually highlights the contributions people with disabilities bring to the workplace. Lyle Davidson has been a CAREERS client for 26 years, with the past 17 as a valued employee of S & H Uniforms in White Plains. Maintenance, warehousing, picking orders and stocking are a few of his many responsibilities. His incredible memory helps him locate items quickly and keep the warehouse running efficiently. "Lyle's constantly reminding me about things we need to order for the warehouse to keep everything running smoothly" said S & H owner and CEO Kevin Ross.
CAREERS Receives NYS Empire AwardTina Cornish-Lauria, Executive Director of CAREERS, accepted the New York State Empire Award, for organizations who have made a significant contribution for the betterment of their community. State Senator Pete Harckham honored CAREERS because "their programs meet an individual's unique needs and places them in jobs based on their abilities and interests. They provide on-the-job training and long-term support for as long as each individual requires."
Help in Getting and Keeping a Job If you or someone you know has a documented disability (intellectual, developmental, psychiatric and/or physical) and want to find a job, CAREERS can Help!
CAREERS Support Solutions: New Name, Same Vital Mission The new name emphasizes the the support and assistance we provide to our clients as well as the unique solutions we create for employers.

A record breaking crowd celebrated our hardworking clients at our 29th Anniversary Celebration on October 20th at the Crowne Plaza in White Plains. The event congratulated and honored over 200 of our clients celebrating work anniversaries from 1 to 35 years, including our 2016 Employee of the Year Sheree Ferguson.
New Agency Staff Page Want to put a face with the voice you hear on the phone when you call CAREERS? Check out our new Agency Staff page under the "Contact Us" tab to see the entire CAREERS team.
Our clients love what they do…and it shows. We asked them to tell you why your support of CAREERS is so important to them! Watch the video here.
CAREERS Teams up with United Way of Westchester and Putnam and PepsiCo to Find Jobs for Women.
Getting Ready for Disability Mentoring Day, October 21, 2015
Ambition In Motion Program Arrives at Iona College
Expect. Empower. Employ. Disability Mentoring Day 2014 in Westchester and Putnam
CAREERS' Ambition In Motion – AIM program grows to meet the needs of the community.
CAREERS Expands Ambition in Motion – AIM Program
CAREERS Finds Jobs for New Rochelle Students
CAREERS Client Vinny M. Welcomes Ann Tucker to Advisory Board
CAREERS Collaboraton with Carmel High School Results in Award