2019 Program Highlights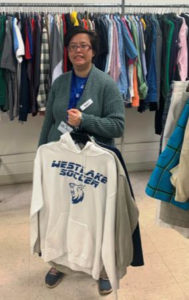 At CAREERS, we specialize in teaching workforce readiness skills and provide on-the-job training and long-term support to assure lasting job success for everyone we work with.
Thanks to support from her CAREERS Employment Specialist, Mary's supervisor at Goodwill Industries was so impressed with her hard work and excellent customer service, that they increased her hours to full-time after just one month of employment!
Click here to read more about our specific programs and what we achieved during 2019.
Archives:
CAREERS Support Solutions: New Name, Same Vital Mission The new name emphasizes the the support and assistance we provide to our clients as well as the unique solutions we create for employers.

A record breaking crowd celebrated our hardworking clients at our 29th Anniversary Celebration on October 20th at the Crowne Plaza in White Plains. The event congratulated and honored over 200 of our clients celebrating work anniversaries from 1 to 35 years, including our 2016 Employee of the Year Sheree Ferguson.
New Agency Staff Page Want to put a face with the voice you hear on the phone when you call CAREERS? Check out our new Agency Staff page under the "Contact Us" tab to see the entire CAREERS team.
Our clients love what they do…and it shows. We asked them to tell you why your support of CAREERS is so important to them! Watch the video here.
CAREERS Teams up with United Way of Westchester and Putnam and PepsiCo to Find Jobs for Women.
Getting Ready for Disability Mentoring Day, October 21, 2015
Ambition In Motion Program Arrives at Iona College
Expect. Empower. Employ. Disability Mentoring Day 2014 in Westchester and Putnam
CAREERS' Ambition In Motion – AIM program grows to meet the needs of the community.
CAREERS Expands Ambition in Motion – AIM Program
CAREERS Finds Jobs for New Rochelle Students
CAREERS Client Vinny M. Welcomes Ann Tucker to Advisory Board
CAREERS Collaboraton with Carmel High School Results in Award