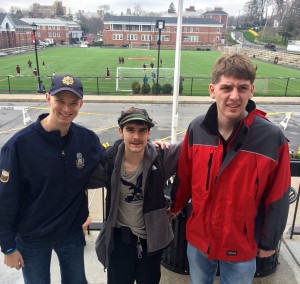 Chris, Matt and James are getting the chance to experience all that campus life has to offer as part of  CAREERS' newest Ambition In Motion (AIM) group, in conjunction with the Gaels Rice Program at Iona College in New Rochelle.  These three friends have been participating in college activities with the guidance of CAREERS Employment Specialists.
Ambition In Motion (AIM) students meet with CAREERS staff three days a week on the Iona College campus to learn job readiness skills, as well as participate in campus recreational and social activities. They also have internships in the weight room and cafeteria, where they learn firsthand what interpersonal and job skills are needed to be successful.
Proud to be part of the Iona campus, Chris, Matt and James enjoy activities such as playing pool in the Student Union and learning to use the resources in the Library, Campus Wellness Center and Nutritional Counseling Services.
They work on projects with CAREERS' staff, including exploring their interests and creating resumes detailing the skills they are building during the program. They have already practiced soft skills needed in the workforce, including participating in mock interviews with our staff.
The Iona Gaels Rice AIM program is based on CAREERS' very successful AIM program in Putnam County, where participants are doing community projects including recycling, volunteering at local libraries and animal shelters, and planting and maintaining a garden plot at Tilly Foster Farm in Brewster — all while learning job and life skills.
For additional information on our AIM program, please call Rebecca Appleyard in Putnam County at (845) 225-8007 or Jen Retacco in Westchester County at (914) 741-8500 .
Click here for more information on AIM.