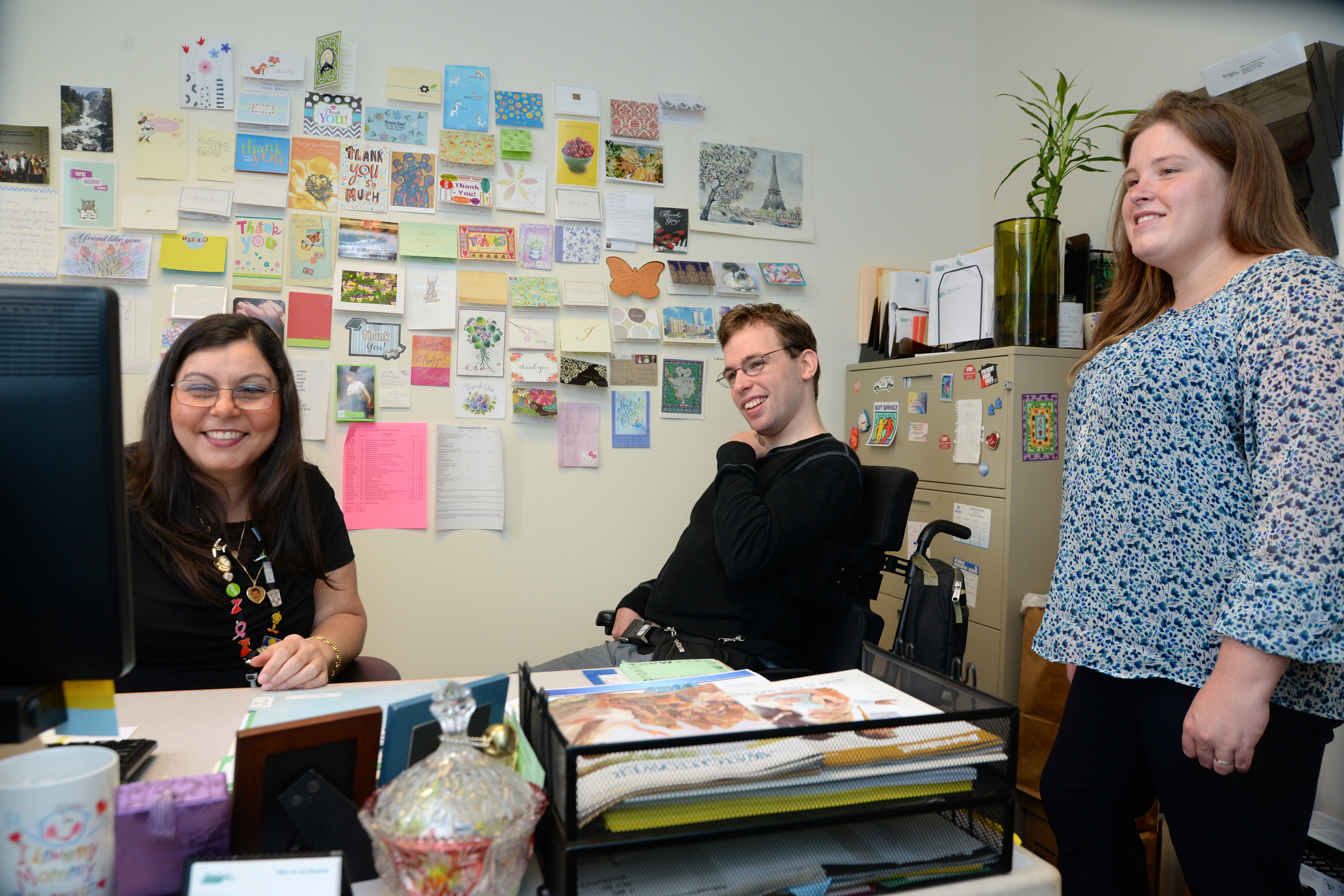 What does it take to make Westchester County run smoothly? Ask CAREERS client Jacob (pictured above with Fadiya Abassi from the Westchester County Office for the Disabled) and his CAREERS Employment Specialist Alicia Lehra. He spent the morning of October 15th learning the ins and outs of County employment during Mentoring Day 2014.
Participants from CAREERS, Institute of Applied Human Dynamics, Culinary Tech Center, Carmel High School, PARC and WARC were placed with volunteer mentors from Putnam and Westchester County government departments as part of National Disability Mentoring Day, coordinated annually by CAREERS Executive Director, Tina Cornish-Lauria.
In Putnam, County Executive Mary Ellen Odell welcomed participants and mentors at Cornerstone Park in Carmel, then met again at the end of the day to discuss their unique experiences, as each received a certificate of appreciation for their participation. Comments ranged from "Totally Awesome" and "Amazing" to, "There was not enough time" and "I wish we could do four a year".
Putnam County departments participating included Consumer Affairs, County Clerk, Health Department, Youth Bureau, IT, Office for Senior Resources and the County Executive's Office, among others. Participants worked side by side with mentors for several hours labeling mailings, landscaping, performing data entry and assisting with recreation activities, among other tasks.
In Westchester, Deputy County Executive Kevin Plunkett honored Mentoring Day participants with a certificate at the close of Mentoring Day. Westchester County Departments participating included Human Resources, Finance, Office for the Disabled and Tourism.
Robert Morris, Putnam County Director of Environmental Health, looks forward to the annual event, and planned a full morning for participants. CHS student Nicole F. started her morning making and tasting a milkshake at "Scoops-n-More" in Carmel, then went on to visit other restaurants and markets, with Health Department staff explaining their roles as they visited each site.
Putnam and Westchester Counties are among 300 locations across the country participating in National Disability Mentoring Day on October 15th. The event connects nearly 20,000 students and job seekers with disabilities to thousands of employers nationwide each year, with this year's theme, "Expect. Empower. Employ."
Check out Putnam County's video from Mentoring Day 2014
Click here for more photos from Mentoring Day 2014.