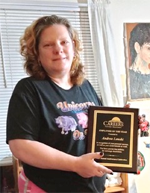 Andrea Lenski (pictured left), was named CAREERS Employee of the Year at our virtual Anniversary event on November 17th for consistently demonstrating excellence in the workplace. She was one of 173 clients highlighted for their efforts on the job at our annual event,
This year's Annual Anniversary Celebration was once again held virtually to keep our clients and supporters safe. With an on-line program full of warm acceptances, inspiring videos, live chat and fun slide show, our program participants, their families and employers, as well as our supporters and staff, cheered each other's success.
While this year's event looked different than our usual in-person events, the joy we shared from recognizing our honorees and supporters remained unchanged and we delighted in seeing our clients so proud of their accomplishments.
For the 17th consecutive year, PepsiCo EnAble was the Premier Sponsor, with CVS Health as Supreme Sponsor. KTS Pooled Trust joined as a new Major Sponsor. Curry Automotive and Enea, Scanlan & Sirignano were Supporting Sponsors.
Contributing Sponsors include: Croonquist Group, Hart Vida & Partners, James Quinn Painting, Karen Brown, Kitson Law Firm, LEXCO Wealth Management, New York-Presbyterian Hudson Valley Hospital, ShopRite Supermarkets, and Unitex Textile Rental Services. Awards of Appreciation were given to CAREERS' corporate and foundation supporters, including the Field Hall Foundation and Gina Manzino.
"Our Annual Anniversary Celebration is our favorite night of the year as we honor nearly 200 of our clients for their work successes," CAREERS Executive Director Tina Cornish-Lauria said.
"CAREERS remained open during the entire pandemic as we helped 73 essential employees stay safely on the job while keeping all our staff employed. We assisted hundreds of others through the changed landscape of employment to prepare them for new opportunities," she added.
Kevin Ross (pictured left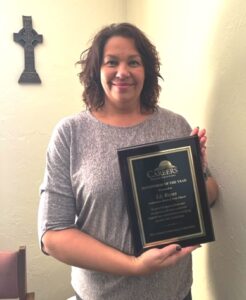 ), CEO and owner of S & H Uniform in White Plains, received Employer of the Year for his steadfast support and mentorship of people with disabilities. Kevin also serves as President of the CAREERS' Board of Directors.
For her compassion, patience and encouragement to a CAREERS client and co-worker, Liz Reyes (pictured right) of Immaculate Heart of Mary Church in Scarsdale was named Supervisor of the Year.
To see our event video, other award winners, celebration Journal and sponsors, Click here: https://careers.onlinegalas.org