National Disability Employment Awareness Month in Westchester kicked off October 8th with CAREERS Support Solutions client, Lyle Davidson, receiving a Longevity Award at the County's annual event. Lyle was one of several individuals honored for accomplishments on the job.
Lyle has been a CAREERS client for 26 years, with the past 17 as a valued employee of S & H Uniforms in White Plains. Maintenance, warehousing, picking orders and stocking are a few of his many responsibilities.
His incredible memory helps him locate items quickly and keep the warehouse running efficiently. "Lyle's constantly reminding me about things we need to order for the warehouse to keep everything running smoothly" said S & H owner and CEO Kevin Ross (pictured right with Lyle).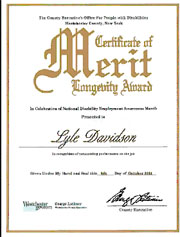 As an essential worker, Lyle worked through the entire pandemic without hesitation. He learned all COVID protocols from his supervisor and job coach and followed them to the letter.
For Lyle, his work is not just a job and it shows. He loves the business, customers and his co-workers. His dedication, positive outlook and enthusiastic smile are his greatest asset and the key to his longevity.
Watch the Westchester County virtual NDEAM Celebration